The family of England's 1966 World Cup hero Ray Wilson, who played for Everton and Huddersfield and has Alzheimer's disease, is backing the new Dementia Friends Football campaign.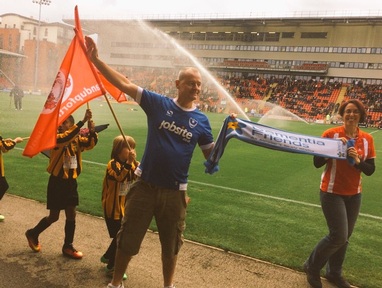 Four of the eight surviving outfield players from the 1996 World Cup team have been diagnosed with dementia. Ray Wilson, Martin Peters and Nobby Stiles were diagnosed with Alzheimer's in their sixties while Jack Charlton has been battling with memory loss since his late seventies.
The link between former footballers and dementia seems to be no coincidence with suggestions that having to header heavy, leather footballs could be to blame.
The Alzheimer's Society is now calling on all Premier League, English Football League and Women's Super League clubs across England and Wales to change people's perceptions of the disease by running Dementia Friends Information Sessions.
The charity wants to ensure that football clubs are places where people with dementia and their carers feel understood and included and to tackle the social isolation which often follows a dementia diagnosis.
Pat, Ray Wilson's wife, who would like to see more awareness of the condition, said: "Sometimes we noticed fans sat around him were a bit taken aback by some of the things he says and his actions, but the more aware of his dementia they've become the more understanding they've been which is really nice and comforting for the whole family."
She added: "Ray might be living with dementia but he still really loves going to watch football matches because the game is in his blood.
"He goes to Huddersfield games with our son, and like most fans he'll kick and head every ball and make every tackle in his mind because he's so passionate."
George McNamara, head of policy at Alzheimer's Society, believes football clubs, which are at the heart of our communities, can make a real difference to the lives of fans who have dementia.
He said: "Life doesn't have to end when dementia begins and people living with the condition should be able to continue doing the things they want to do, like supporting their football club, after a diagnosis."
Dementia Friends Information Sessions will be delivered to match-day staff and stewards at clubs nationwide so they understand what it's like to live with dementia and the small ways they can help people on match day.
Alzheimer's Society is also calling on football fans to show their support for Team Dementia Friends by watching a short video on the website and becoming a Dementia Friend. There are 1.7m Dementia Friends and Alzheimer's Society wants to reach four million people by 2020.
Clubs across the nation, such as League Two outfit Leyton Orient, are showing their support for people by staging Dementia Friends sessions.
Phillip Smith, Leyton Orient's health and wellbeing activator, said: "We are pleased to be able to support Alzheimer's Society in raising awareness of dementia in the local community of Waltham Forest. We are in a unique position to be able to engage with such a large number of people and as part of the wider health engagement plan the club and trust have developed.
"We are dedicated to improving and supporting the health of our fans and local community members. We want to ensure that fans living with dementia can continue to engage with the club both on match days and within our community sessions too."
For details about Team Dementia Friends go to DementiaFriends.org.uk.