A Chelsea Pensioner has become the first World War Two veteran to use Virtual Reality to revisit a town that he helped liberate 72 years ago.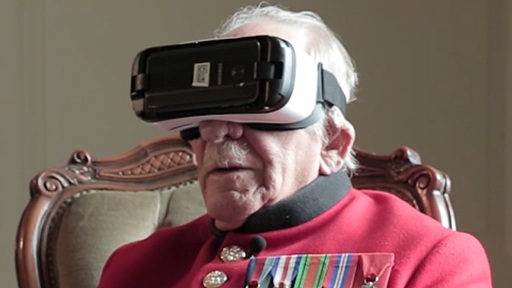 The virtual reality video was specially created for 91-year-old D-Day veteran Frank Mouqué who is a resident at Royal Hospital Chelsea, home of the iconic Chelsea Pensioners.
The video was shared ahead of this year's Remembrance Sunday 2016 and depicts Mr Mouqué using VR to revisit the French town of Armentières that he helped liberate during World War Two.
Stuart Logan, founder and chief executive of Twine, which created the 360-degree film, said: "Virtual reality is a technology with almost limitless potential, but we wanted to look beyond thrills and entertainment and use it to achieve something truly profound.
"My late grandfather took part in the liberation of Europe, so I was drawn to the idea of helping a member of this extraordinary generation see the town today that he helped free so many decades earlier. It was wonderful to let Frank experience the gratitude of the people of Armentières and see first-hand the enduring legacy of both his service and the sacrifices of so many friends.
"I am proud that we were able to mobilise so many members of the Twine community of creative freelancers, from across the world, to help make this special film for Frank."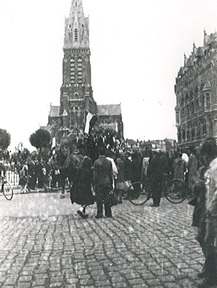 Frank Mouqué was born in Putney, London, in 1925 and was a corporal in the 263 Field Company of the British Royal Engineers. Mr Mouqué was a sapper and was responsible for laying and defusing mines and explosives, constructing and destroying bridges and edifications, as well as participating in combat.
He was part of the D-Day assault on Sword Beach, where, under fire, he and his fellow sappers cleared a path through the mine-littered beach ahead of the rest of the British troops.
In the weeks following the D-Day landings, He was part of the Allied forces that took Pegasus Bridge and liberated several northern French towns, including Armentières – the town he remembers most clearly and most fondly. With the Allied forces, Mr Mouqué pushed on through France to Belgium, Holland, and, finally Germany.
The project was devised and coordinated by Manchester-based start-up Twine (www.twine.fm) and uses one of the year's most discussed forms of emerging technology.
An increasing number of care homes have already started to incorporate virtual reality into their reminiscence sessions, allowing their residents to travel back and in time and virtually visit places that may not always be possible in reality.
Twine worked with Mutiny Media to help source videographers, editors, musicians, producers and other creatives from around the globe to help the project come together. The project even caught the attention of British film composer and multi-instrumentalist Paul Saunderson who helped create the music in the video.
The video offers a first-person experience with 360 functionality so that viewers can share Frank's first person experience, in addition to a second film documenting Frank's reactions.
With the help of VR, Mr Mouqué was transported back to the place he helped to liberate from the Nazi's in 1944, in the weeks following D-Day.
The town of Armentières, near the Belgian border in Nord-Pas-de-Calais, northern France, was a centre of conflict in both World Wars. Being situated close to the Western Front during World War I and occupied by the Nazis for much of World War II, the town also served as a home for Allied forces at various points in both conflicts.
The virtual reality experience enabled Mr Mouqué to enjoy a tour of present-day Armentières and a subtitled interview with the town's mayor Bernard Haesebroeck during which the French dignitary 'virtually' presented Frank with the town's official medal, the 'Medal of Armentières'.
Mr Mouqué was also able to experience a conversation between two elderly siblings and life-long residents of Armentières, Paulette Noël and André Prevost who discuss their memories of the Allied soldiers entering the town. In addition to a group of schoolchildren expressing gratitude by singing the traditional local song 'Mademoiselle from Armentières'.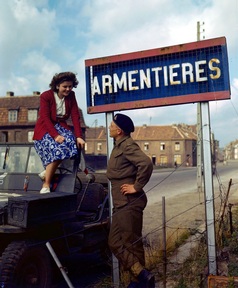 After the experience, Mr Mouqué said: "It's ingenious! It's like you're really there, standing in front of them! On behalf of all the people who were [serving] with me, thank you."
After the War, Mr Mouqué acted as a military translator in Germany and a mine-defusal expert in northern France, before returning to the UK, where he married and had a family.
Now 91, he lives at the Royal Hospital Chelsea, which he describes as the 'best nursing home in the world'.
Colonel Simon Bate, adjutant of the Royal Hospital Chelsea, commented: "This is a tremendously important time of year. Remembrance is a chance for us all to remember how lucky we are to be here today and what we owe to our veterans.
"For Frank, to be thanked by the people of Armentières for his contribution during the war, and to receive this medal from the mayor, means a tremendous amount. He will have been thinking of the other soldiers who fought alongside him as he received the medal on both his - and their - behalf. It will mean a lot to him. We need to make sure that the sacrifices of those lost in war are never forgotten."
The Royal Hospital Chelsea was established in 1681 by Charles II to provide a home for the relief of 'veterans broken by age and war' and more than 300 years later is still supporting ageing veterans and is home to more than 300 Chelsea Pensioners in recognition of their service to the nation.
To support the Royal Hospital Chelse and Chelsea Pensioners, visit: www.chelsea-pensioners.co.uk/support-the-chelsea-pensioners