Home Instead Senior Care has secured a ninth 'outstanding' rating from the Care Quality Commission (CQC) following the inspection of its Oldham and Saddleworth franchise.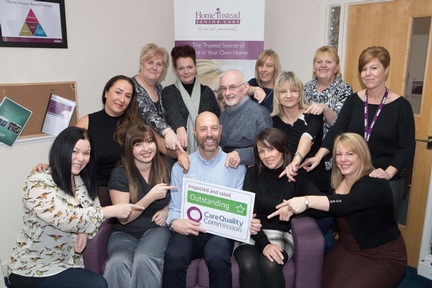 A former soldier and Gulf War veteran, Mick Sheehan founded Home Instead Senior Care Oldham and Saddleworth in 2009, along with his wife Jenny, an intensive care nurse. This new rating puts his franchise in the top one per cent of home care providers across England.
Mr Sheehan, 45, was inspired to provide quality home care after having concerns about the care received at home by Jenny's grandmother, Beryl Colson.
The father-of-two said: "We felt that the carers who helped support Beryl weren't given enough time to do their job. They generally didn't take their coats off and only had time to make microwave meals. Most of all what Beryl would really have benefited from was a brew and good chat.
"I was sure that there must be a better way of delivering care – one that took into account people's personal preferences and gave them the chance to form relationships with their carers."
The couple found Home Instead Senior Care's "ethos of relationship-led, person-centred care really chimed" with how they felt care should be delivered.
Ninety-six year old Second World War veteran Elijah Debnam has felt the benefit of their personalised approach.
Kathryn Mills, who helps widower Mr Debnam with things like shopping and collecting his pension, spotted a photo in his house from his time as a Royal Engineer in Belgium during the war. Mr Debnam couldn't remember the name of the building in the photo and so Ms Mills turned sleuth and hunted down the details for him in her spare time. She was able to print off a photo of the building along with its name to take to Mr Debnam on one of her visits.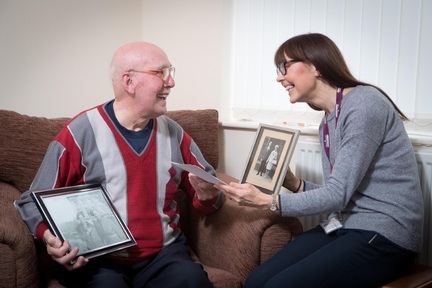 He was delighted with the photo and said: "I love Kathryn coming round so we can reminisce. We went back 72 years the other day to 1944 when I arrived on the beaches of France."
In the seven years since it was founded, the company has cared for more than 500 clients, delivering over 180,000 hours of care, and now employs over 50 members of staff.
Martin Jones, managing director of Home Instead Senior Care called the outstanding rating a "testament to the absolute dedication of Mick and his team to delivering top quality care. It's fantastic to see Home Instead Oldham and Saddleworth join our ever growing list of 'outstanding' franchises and I have no doubt that they will continue to go from strength to strength in the future".
Home Instead Senior Care Oldham and Saddleworth's Care Quality Commission report can be viewed here: http://www.cqc.org.uk/location/1-530528300
click here for more details or to contact Home Instead Senior Care (Oldham & Saddleworth)