This Mother's Day, Liz Ayre was treated to a luxury afternoon tea by her daughters Ciana, aged 21, and Chrissi, 19.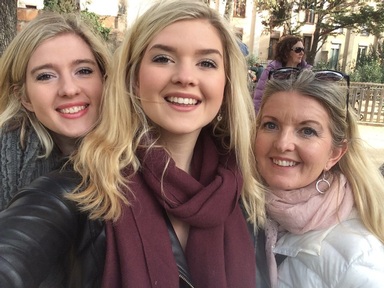 To this close-knit family, Mother's Day is very important. After losing their father Mike Ayre in 2013, they made a vow to make the most out of life and appreciate every second together.
It was in 2008 that Ms Ayre learned she would become a carer as her husband was diagnosed with early-onset Alzheimer's at the age of 46.
The diagnosis came as a 'huge shock' for the family. Ms Ayre said: "The four of us had an amazing life together, so Alzheimer's was not something we ever thought would be part of our lives, especially not while Mike was so young.
"When he was diagnosed, our world fell apart. It was devastating for us as a family but we stuck together and Mike and I made a promise to the girls that we would be open and honest with them about dementia and any questions they had about it. Sadly, I didn't always have all the answers."
'Being a mum to my daughters kept me going'
"It was incredibly difficult to see the grief in my children as their dad slowly disappeared piece by piece into an empty shell," she added.
"It was being a mum to my daughters that kept me going after losing the love of my life. I've never been more proud to see them go off to university and start their own careers. Though a mum's job is never done I feel that Mike would be so proud of the wonderful young women they've turned into."
In the years that followed, Mr Ayre's symptoms worsened. He became more confused and began having seizures and hallucinations, which eventually became violent.
Ms Ayre was left with no choice but to allow her husband to be moved into a specialist nursing home for 24-hour care. He died just five years later in 2013.
Ciana and Chrissi say they do not know where they would be without their mum, who kept the family together.
Ciana said: "We lived in Vietnam for three years for Dad's work which was an amazing experience and means, luckily, I have some fantastic memories of us all going on bike rides, travelling.
"He was diagnosed ten months after we came back. My parents were very open with us from the start and I understood that he would die. Mum coped for so long trying to look after all of us, but eventually it was just too much and Dad went into care.
"Doing our exams and juggling school while continuing to visit him was very hard. It was a 50-minute drive, which meant we could only see him on one weekend day. It was an exhausting, draining time. But Mum kept us upbeat and took us without fail every week."
'A blessing to have her there for me every day'
Chrissi added: "I remember the day my dad was diagnosed like nothing else. They had to sit my sister and me down to give us the bad news we had been hoping would never come our way: 'Your dad is terminally ill with Alzheimer's'.
"At this point, all I knew was that it was to do with memory loss and that at one point, he would forget us. Each time he deteriorated more, it would feel like we were already grieving, as bit by bit we lost little pieces of him. At the end, he could do nothing – he couldn't feed himself, dress himself, talk, walk or communicate with us.
"During this time, I honestly don't know what I would have done without Mum. Losing my dad has made me realise how short life truly is and that I should appreciate every moment. It made me realise how much I love my mum and what a blessing it is to have her there for me every day."
The family are dedicated supporters of Alzheimer's Research UK and are 'Champions' of the charity – an accolade given to a handful of supporters in recognition of their outstanding efforts to help the charity beat dementia.
Hilary Evans, chief executive at Alzheimer's Research UK, said: "We can't thank the Ayre family enough for sharing their moving story, and for their ongoing commitment to Alzheimer's Research UK.
"There are 850,000 people in the UK living with dementia every day. Showing the faces of those behind the statistics not only raises awareness of the condition but also brings to the public's attention the desperate need for new treatments.
"Current treatments help with the symptoms of dementia but there are currently no drugs to slow down or stop the diseases that cause the condition. Alzheimer's Research UK is leading the charge to find new treatments and funding over £27m of research across the UK."
For more information or to donate visit www.alzheimersresearchuk.org/donate.