Twelve Ipswich teenagers gave up their time and raised £250 to create a sensory garden to help Norfolk and Suffolk NHS Foundation Trust (NSFT) support people with learning disabilities and mental health issues.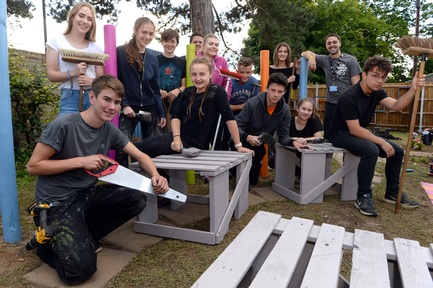 The 16 and 17-year-olds were tasked with designing an outdoor space for patients, which included building benches from pallets and digging raised flower beds. They also added features such as wind chimes and artificial grass for extra texture.
The teenagers raised cash for the garden through sponsorship from their friends and family.
Staff at the NSFT has said they are more than pleased with the results. Jacquie Knott, deputy service manager for the NSFT Acute Learning Disability Services said: "We are really grateful that this dedicated group decided to do something special for our patients. The garden makeover has made a real difference and has transformed our outside space."
The sensory garden will benefit two supported living wards at Walker Close, which offers assessment and treatment for adults with severe learning disabilities and acute and chronic mental health conditions.
The two wards also deal with patients who have challenging behaviours and it is hoped the sensory garden will help with treatment for this, with families, carers and staff being able to enjoy the environment with them.
Ms Knott said: "People with learning disabilities can really benefit from sensory stimulation.
"This garden will provide our inpatients with a therapeutic space to help them feel at ease and aid their recovery whilst at Walker Close. In addition, it will also be a great place for family, carers and friends to enjoy when they come to visit, and will offer an attractive and calming alternative to our ward."
The young people provided voluntary services in the community as part of the National Citizen Service (NCS) initiative, which was introduced by David Cameron in 2011 as part of his 'Big Society' initiative.