Achieving an 'outstanding' rating isn't a tick box exercise and there isn't a magic formula, it's about making a difference, with "staff going above and beyond to look after their clients", says Martin Jones, managing director of Home Instead Senior Care.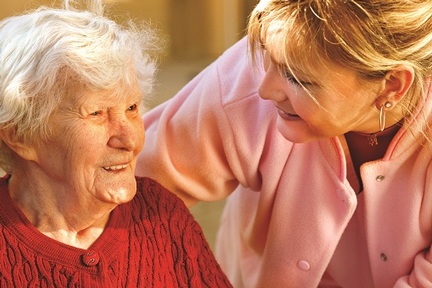 The independent home care provider has just received its 20th 'outstanding' rating from the Care Quality Commission (CQC), with inspectors praising the Salford provider in Manchester for its "excellent level of care which is dedicated, compassionate and centred on what clients want."
While only two per cent of homecare providers are rated 'outstanding', Home Instead Senior Care (Salford) has achieved the standard less than two years after opening.
Mr Jones said: "We are proud to hold more CQC 'outstanding' ratings than any other company but we never take a great report for granted. It is clear to see that Susan, Jo and their team are committed to the Home Instead mission of improving the quality of life for older people
"That inspectors noted so many instances of staff going 'above and beyond' to look after their clients is beautiful to see. The whole report is testament to Susan and Jo's leadership, as well as the caring nature of everyone on the Salford and Worsley team."
Susan Robinson and Jo Shaughnessy opened the office early last year, and have received continuous praise from clients and their relatives ever since.
A review submitted on homecare.co.uk by a daughter of a client says: "Home Instead relieved an enormous amount of pressure from the immediate family and effectively meant that Mum was able to live at home and this was her 'number one' wish."
Another review highlights how Home Instead were a 'Godsend', saying: "The care they offered and delivered to my elderly mum – who had Alzheimer's – was first class. Without exception, all the carers were lovely with her, taking the time to chat, sing and do activities. They would help her to eat, help with personal care and treated her with dignity, respect and care at all times. My mum's last months were much richer for having her wonderful carers in her life."
Upon inspection, CQC inspectors noted that both directors and the registered manager had been involved in numerous fundraising events, including a sponsored walk and skydive, to raise funds for people who had previously used the service and passed away.
In honour of the client and to keep their memory alive, the service has since devised 'The Marshall award' which is awarded to caregivers for their continuous hard work.
Similarly, inspectors praised the service for its minimum call times of one hour, with some lasting up to four hours which have allowed "genuine, friendly and caring relationships to develop."
One client told the inspectors: "With previous companies I have used there were always different carers coming round that I didn't know, but it's not like that with Home Instead. They ensure their caregivers share similar interests to their clients. The carers who come and see me are excellent, but I think of them more as friends really and look forward to each one of their visits."
Commenting on the rating, the CQC inspector added: "The feedback we received from people who used the service was unanimously positive both about the care they received and the caregivers. People consistently told us caregivers provided an excellent level of care which was dedicated, compassionate and centred on what they wanted and we saw specific examples of where caregivers had gone 'above and beyond' for people who used the service."
Home Instead Senior Care (Salford) provides personal care and support to around 30 people in their own homes. The service is built around the individual needs of each of client and is delivered by a handpicked team of Caregivers – chosen for their caring nature and shared interests.
click here for more details or to contact Home Instead Senior Care