The Football Association (FA) and the Professional Footballers' Association (PFA) have commissioned an evidence-based study into whether heading a football can increase your risk of getting dementia.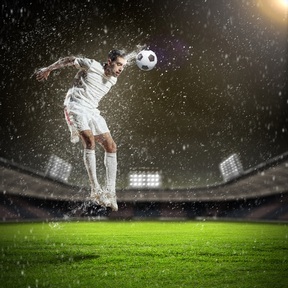 Concerns have been brewing for some time, over where there is a causal link between football and dementia, with an increasing number of high-profile retired footballers being diagnosed with the disease.
Notably, four of the eight surviving outfield players from the 1966 World Cup team have the disease. Ray Wilson, Martin Peters and Nobby Stiles were diagnosed with Alzheimer's in their sixties while Jack Charlton has been battling with memory loss since his late seventies.
The study called 'Football's Influence on Lifelong Health and Dementia Risk' (FIELD), is scheduled to start in January 2018.
The FA and FPA have appointed Dr William Stewart and colleagues at the University of Glasgow and the Hampden Sports Clinic to lead the independent research study into the incidence of degenerative neurocognitive disease in ex-professional footballers. The appointment was made by The FA Expert Panel in Concussion.
Martin Glenn, chief executive of the FA, said: "This new research will be one of the most comprehensive studies ever commissioned into the long-term health of former footballers.
"Dementia can have a devastating effect and, as the governing body of English football, we felt compelled to commission a significant new study in order to fully understand if there are any potential risks associated with playing the game."
Dr Stewart and his colleagues in Glasgow have extensive research expertise in brain injury, public health and sports medicine. They will explore whether the incidence of degenerative neurocognitive disease is more common in ex-professional footballers than in the normal population.
The FIELD study will look at a wide range of physical and mental health outcomes, including neurodegenerative disease, in around 15,000 former professional footballers and compare these results to matched general population health data.
"In the past decade there have been growing concerns around perceived increased risk of dementia through participation in contact sports, however, research data to support and quantify this risk have been lacking," said Dr Stewart, consultant neuropathologist at the Queen Elizabeth University Hospital in Glasgow.
"Through the FIELD study we hope to be able to provide some understanding of the long-term health impact of football within the next two to three years."
The FA and the PFA will jointly-fund the research and the sports concussion research charity Drake Foundation will project manage the study.