A 39-year-old man has been charged with attempting to murder a D-Day war hero who was left with serious injuries in a suspected claw hammer attack at his home.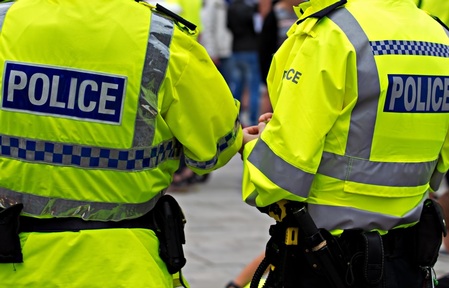 Ninety-six-year-old Royal Navy veteran Jim Booth was attacked in his home on 22 November in Taunton, Somerset.
Jim Booth, a veteran of the D-Day operation in World War II, was left with serious injuries to his head and body after the incident and remains in hospital. Despite his injuries, the elderly man managed to raise the alarm by stumbling out into the street where a neighbour called for an ambulance.
Joseph Isaacs, of no fixed address, has been charged with attempted murder and aggravated burglary in relation to the incident and appeared at Taunton Magistrates' Court on 27 November. He was remanded in custody to appear at Taunton Crown Court for a plea and trial preparation hearing on December 22.
Mr Booth joined the Royal Navy as a seaman at the age of 18. He served throughout World War II and on D-Day, climbed into a fold-up canoe and shone a beacon out to sea to guide Allied craft safely to shore. He was awarded a Croix de Guerre military medal by the French for his bravery during the war.
More recently, the war hero was in the media spotlight for dancing with the Duchess of Cornwall in 2015 to celebrate the 70th anniversary of VJ day.
The family of Jim Booth described him as 'The Legend' with the words: "He is, and always has been, our own family hero".
"Our father is not easily defeated and he grows a little stronger each day. We are all now focused on the long process of recovery, which will be helped by the love and support of all those around him."
Hunt goes on for men who left 87-year-old man for dead at home
In a separate, unrelated incident that took place a day before the attack on the war hero, 87-year-old Arthur 'Bob' Gumbley was found lying on the floor, covered in blood at his home in Sutton Coldfield before 10pm on 21 November.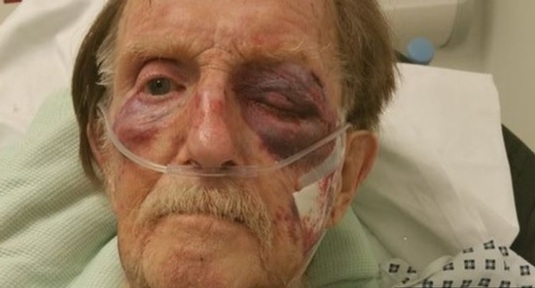 Police are still hunting two men who left Mr Gumbley battered and bruised lying in a pool of blood in his home. In what was described as a 'despicable' and 'cowardly' crime, a spokesman for Staffordshire Police told homecare.co.uk, on 27 November, Mr Gumbley is still so shaken up by the crime that police have yet to interview him.
"We are hunting two men who left an elderly victim with horrific injuries after breaking into his home, before beating and robbing him. He had been punched in the face and kicked while lying defenceless on the floor", Staffordshire Police said in a statement.
Detective Inspector John Quilty said: "This was a despicable and cowardly attack on a defenceless, elderly man in his own home. Mr Gumbley suffered terrible injuries and was understandably left very badly shaken.
"His family has agreed to release photos of his injuries in the hope that anyone who has any information about the attack will come forward."
Police said the thieves ransacked the house and stole cash from Mr Gumbley's wallet. It is not yet known if any other items were taken.
Mr Gumbley was taken by ambulance to Good Hope Hospital where he is being treated for severe bruising to his left eye, both hands and right arm, which will require surgery. He also suffered bruising to the back of his neck and chest, as well as other facial injuries.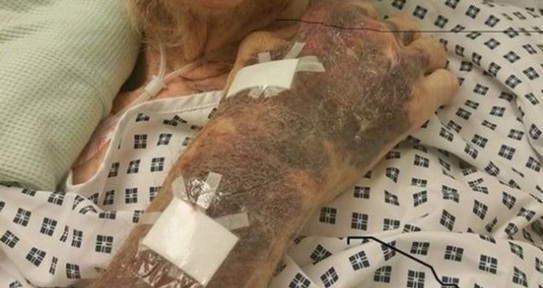 The robbery is believed to have taken place between 8pm and 8.30pm on 21 November. The suspects are both described as white, with one in his late teens and the other in his mid-twenties.
In a statement, Staffordshire Police said: "Anyone who can help us with our investigation is urged to call 101 and quote incident number 828 of 21 November, or Crimestoppers on 0800 555 111."