Marathon runner, Ron Hill, who last year was forced to end his 52-year running streak of at least a mile a day after suffering chest pains, has revealed he has dementia.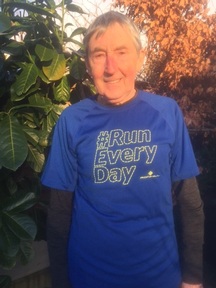 Ron, who won the marathon gold medals at the European Championships in 1969 and the 1970 Commonwealth Games, says he is ready to face "the biggest challenge of my life".
The 79-year-old did not miss a day of running between 20 December 1964 and 30 January 2017 – a total of 52 years and 39 days. He defined a run as at least a mile at any pace and even ran after breaking his sternum in a car crash and after bunion surgery.
On 30 January 2017 his Facebook page announced that 'Due to ill health Ron has decided to take a day off', thus ending his streak. His total lifetime mileage was 158,628.
"Dementia is the biggest challenge of my life but it isn't the end of the road by any stretch of the imagination," Ron said. "I can't be ashamed of it because I haven't done anything to deserve it. No one does. It's there and I can't rub it better or run it off like a minor niggle - or get better with rest or physiotherapy like I would with a running injury.
"It won't stop me in my tracks, so to speak. I don't wake up feeling sad or anything like that. I sleep like a baby."
Ron hopes to keep on being active and by doing so "this will give other people the impression that dementia is nothing to be frightened by and that there shouldn't be any stigma attached to it".
Ron, who lives in Hyde, Greater Manchester with his wife May, was diagnosed with dementia after being tested by his GP.
"I was effectively diagnosed with Alzheimer's disease, dementia or whatever you want to call it, with a short-lived test," said Ron, who is now waiting for a formal diagnosis.
"I had to read an address and then when I was asked to repeat it I had no idea – it all just went away. That's when the penny dropped.
"It's got to the point where my short-term memories quickly vanish and I have to ask my wife what day of the week it is when I wake up in the morning. But I'm not daunted and I'm not embarrassed to say that I've got a problem.
"I'm lucky that I've got a lovely family and great friends and fortunately I can still vividly re-call the days when I was in my running pomp and those memories always bring a smile to my face."
Ron represented Great Britain at three Olympics and was the first Briton to win the Boston Marathon. He won gold in the 1970 Commonwealth Games in Edinburgh in a then world-record time of two hours nine minutes and 28 seconds.
"I don't seem to remember anything short-term but I've got a feast of memories I can still get to and they can make me feel better," Ron said. "I remember enough about my running career to be able to talk logically about that. I will cope with dementia to the very best of my ability and I've been reading up on what I need to do.
"Whatever happens, it won't get me down and it won't stop me from being happy or living life to the full. It won't stop me getting out and about or going away on holiday.
"It's a blow but I'm handling it fine already. I certainly won't start feeling sorry for myself. What's the point? That would get me absolutely nowhere."
Ron's wife of 56 years, May, added: "It's just so sad because Ron's as fit as a fiddle and he's the last person you would expect to develop dementia.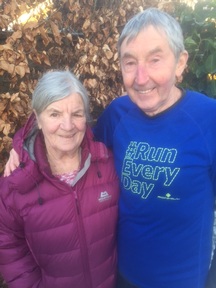 "It just shows that dementia doesn't care who you are - but it won't stop us being happy and I know we'll deal with whatever it throws at us, together as a team with family and friends."
Ron will be the guest of honour at the OMC Motor Group Ron Hill Accrington 10k & Fun Run on Sunday, April 22. The event, in the Lancashire town where Ron grew up, is being organised by Cannonball Events whose founder, John Lloyd, made the decision to use it to fundraise for Alzheimer's Society after learning of Ron's dementia.
Alzheimer's Society chief executive Jeremy Hughes hopes Ron's positive mind-set will inspire others to unite and take action against dementia.
He said: "Ron is a true icon who has inspired tens of thousands of runners to push themselves and go the extra mile and I am sure that his grit, determination and fearless approach will now inspire people who are affected by dementia.
"Dementia is the biggest health challenge facing society and no one should have to face it alone. But Ron is showing that people with dementia can be empowered to live a life they love after a diagnosis with the support of family, friends and people across our communities uniting against dementia."
For details about the OMC Motor Group Ron Hill Accrington 10k & Fun Run go to http://cannonballevents.co.uk/omc-ron-hill/ and for Alzheimer's Society support visit alzheimers.org.uk or call the National Dementia Helpline on 0300 222 1122.
There are 850,000 people with dementia in the UK and this number is set to rise to one million by 2021, according to Alzheimer's Society.